TESTIMONIALS ONLINE CHAT ….    (then scroll down …)
==========================================================================
Mayke L
Hi Alexandra,
in the summer I had a chakra massage you. During the massage we had a good conversation and I went home stronger. Because of that feeling, I decided the VIP Intensive to do to you, because I wanted to get stronger.
During the talks we have had two days; I told my story, you asked questions, listened and responded. There were feelings up, which I did not expect, some were even slumbered. You have negative feelings addressed by the transformation, so we went to my core.
They were two intense days where we put the first step to my new future. I was looking for myself and thanks to the conversations I came back to myself, to my feelings. The day after the VIP days I was faced with unrest; I used lots of things to do and I could not Schiermonnikoog, because everything was home. I started looking for the peace in myself and eventually I went to the beach. Schiermonnikoog hangs an indescribable feeling, which gave me the serenity to treat a giving place to handle my new future.
And then when I go home. That was exciting, because I was much lived. I started to process the steps learned in my daily life. It's trial and error, but step by step I'll be there, knowing I still have you in the background and can also always have an appointment you make Schiermonnikoog.

I want to thank Alexandra for your help! I now have an empty head (or I know how to make it empty) and walk around again with a smile on my face. I can enjoy, is getting quieter and walk, with handles that you gave me on to a bright future!
Greetings Mayke
MH
A great day with many insights; that was my VIP Intensive day with Alexandra.
How exciting and difficult I 's found the morning, how easy Alexandra me all "loose" was by asking questions and doing exercises. Soon the tears flowed, tears of stress but mainly recognition and relief in what Alexandra said. Alexandra relief because I understood exactly and precisely could appoint my 'pain' while I myself sometimes could not agree. And more importantly, which remove obstacles / they allow less heavily by doing exercises and give me insight.
I have the whole day so many tips, tricks and exercises given that I do not go all enumerate. Eventually everyone must take his own journey, therefore I do not mention the tips and tricks. I was traveling with my trip, but was quiet and I feel absolutely Alexandra has also helped me again herein. The day gave me great insights and good handles to be able to continue.
Caroline S.
Surprisingly, overwhelming, awakening and liberating.
After years of self-neglect, I am very hard declined in May this year. Since then I try to turn the tide for myself. Given the low energy levels it still was quite a challenge. This week I have the connection with myself regained through dance and other sessions. In particular, the session of "the body as a company" has worked as a real eye-opener. I actually got contacted by the dance and the session with my feeling and that is very special and gives a lot of joy. I really felt what "do" it does: it makes the connection. The step is to put balance between body and mind, the Office has turned to a life in balance. Also a real eye-opener ward mandalas. When I had to put in order to look and feel what came up, I began skeptically. My ratio saw no point in. Yet broken through that resistor, and to let me in work. The result was surprising: I felt a flow and connect with my body. The Reiki felt like a warm flow of energy in the places I was touched and found it relaxing.
In short, when I came, there was no connection with my chakras. I did not even have exactly what they value) and now there is that connection and appreciation.
Alexandra, many thanks!
( VIP Intensive including Chakra Dance 'Awakening' in Spain)
Christine G.
What does that sound, such energetisc he voetmassag e oil … the energy starts flowing and you immediately feel how it  is quiet inside. .. talk together, a listening  ear, an understanding … . blissfully scented oil …. Blessed are just pure verwenneri j, you feel reborn .. . starting with the feet … . it flows through !!! Thanks I super enjoyed!
Ingrid R.
The fragrance that offers Alexandra (even drafted according to a personal recipe) are above expectation nice. Certainly, the roll-on bottles are finely and economical in use.  So definitely recommended.
Greetings Ingrid Rombouts (Zeeland)
Jolande S. (ES)
Despite all my blessings, I was 65 years always looking for something …………
By Alexandra's warm understanding, her knowledge and professional approach, I found what I was looking for. Myself.
Dear Alexandra, you gave me back Enjoy!
Insanely thanks.
Jolande Spaink
To thank Jolande has created this wonderful picture! Her explanations there …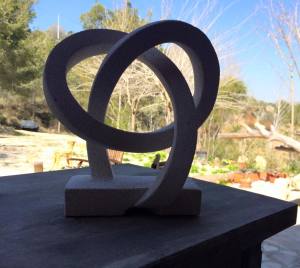 "Beauty is the disentanglement of the problems. An eight motion, bring problems from the button, the hard masculine (square block) to the soft female (8-shape) and heart stands for the work you do out of love and passion "
Netty
Alexandra, foot treatment was again delicious, it gives relaxation and tasty, the feet are much softer and I feel during the Reiki treatment heat. A week later I still had benefited. Coaching is also fine, be more inward, became aware of a few things and felt relaxed. When I was a huge discharge and peace full and after leaving my head was joining you! I feel with you very much at ease, you are a listening ear and radiates warmth. All in all very well, thank you. Greetings Netty
Laila
Alexandra, your sessions are great, I enjoyed it, you gave me relaxation and satisfaction and find great pity you now is so far away. You have really dragged me through the very difficult period! The foot massage was wonderful! You're also someone who someone good can drag through. Through your pep talk and honesty you direct me an insight and confidence in myself again. Thank you, I look forward again to an energy treatment including foot massage! Greetings, Laila
Candida M.
I searched and found Alexandra. With a very tough event ahead I could use some help in the here and now but I came in yesterday …
And that was a good thing because I could with "Hearty help" Alexandra again all very to today and tomorrow …
and ahead 😉
I'm just doing Alex ♡
Jim
During some sessions Coach I'm advised by Alexandra aromatherapy either, to use Healing scents. The Aura Spray 'Protection' and 'Clean Energy' combined with the 'earth smell "made sure that I am better able to shut me off from external stimuli and thus easier to keep to myself. not even let me so easily influenced, eg by negative energies from other people. Also by the daily exercise in the earth, which Alexandra taught me, I find myself doing things more aware, be less impulsive and think first before doing.
Furthermore, I go listen to the signals my body especially in fatigue and zodooende less about borders. I'm out of my head and in my sense, this is also doing a result of the more grounded / "mindfull! Thanks Alexandra, regards Jim 
Danny vd V.
I turned out to be high sensitive (High Sensitive Person), a personal trait that will make incentives in any form heavier and stronger experience. And making you stronger feelings and emotions and generates the average person. Positive energy can make you "float" and do very well, negative energy is like a sledgehammer come in and make you upset at all. With your head in the clouds with your head in the sand and often nothing in between. Do you wonder that I often felt like a motionless sailboat at sea with winds meewaait?
When Alexandra came my way. They brought me back to basics, get in balance with Mother Nature. The first sounded a bit floaty a little too spiritual for me. After I used the clinical and medicinal side of contemporary conservative therapy. But after one conversation with Alexandra she made more impression and I saw that she gave me much more meaning than four years 'normal' therapy I had behind. She went with me to work, where you walk in your life encounter, what would have to change for you so you could be happier, how do you now with setbacks and how would you like to change?
They went out of myself as a person with all my qualities, traits, feelings and emotions. We spoke no opinion about it gave me the sense of just let me through backwards, exercises and meditation itself to seek out the answers to the questions I had. There is not one way to happiness, it determines every man for himself. After all, every person is different and everyone has their own thoughts, feelings, needs and desires in life.
That Alexandra has now reached me, I have to think differently about things Accept things you can not change, do not judge others and condemn them either. Come in harmony with nature, we all come out with son forth, that is our environment. The society in which we live, many people forget this. But actually it is quite logical, most people do not always look natural relax to? Do not you feel better if you come often outside, or walking around in a bunch of heather with the peace and energy that nature gives us?
These are just a few insights that Alexandra has given me, I'm not there yet. But I am now much more aware of myself and my thoughts and feelings. I am the right path laid down by the instructions of Alexandra, now I only have myself to make sure I stay on the right path and not the road again lose in the maze of life and feelings. Before I first life feeling that I myself and the world around me more and more understandable to end systems are often in balance …
This review has been shortened … Click here for a detailed review of Danny vd V
Silvia
I arrived at Alexandra for my fear of driving test. I was scared every time when I drove into the corners of slip roads because I had a year ago was involved in an accident. I kept seeing that image that the driver next to me had to brake hard because an engine was on the road that came down on us. The EMDR I could give it a place and the fear turned into confidence. With the exam, I said to myself that I can and that I had to let it show through which I passed at once that I am very happy and proud. I found it a very special and beautiful experience, I would recommend anyone to come off this way your fears. Greetings Silvia
Gerda
I've had some bad experiences and work has given me understanding, and there's positive reaction through sessions of Alexandra. Calm, professionalism and honesty is what you can find at "Your Balance Coach.
Conny
Treatment with Alexandra was very relaxed and familiar to me. Felt very at ease, everything went at a pace which suited me so I was feeling good. Do have some tips that I inherited is still a positive experience and still applicable daily. Am very much looking forward to another treatment to do to find myself even further and will certainly succeed with her help. I would definitely recommend everyone Alexandra !!
Michael M.
I had a short-term therapy in Alexandra (Langeveld). Alexandra helped me a lot and she is a very good therapist. In a friendly way, she has much attention to you and try to understand them you. She asks carefully and take all your time. With her empathy and she is a wealth of life experience to be able to restore balance in their lives by many. I would recommend her to anyone.