Introduce myself     
My name is Alexandra Langeveld. Alexandra literally means the 'Guardian'. In 1968 I was born in Rotterdam gone, grew up in the bulb and motherhood to Zeeland. After my son stood on their own feet, I went further south towards Spain and work well on the beautiful Schiermonnikoog. My motto is "Live and work from your heart"
My dream and goal
Around my 15th I wanted to be free, be happy and spread my wings. I wanted to live my own life, myself discovering and experiencing unconditional love.
After I researched my biological father and love him and his wife had felt then was the cue between both of my parents, I decided to leave home. Now I know what unconditional love. Charity begins at myself, and want to take for not compromise the best for myself, love for my child, my love for animals, love for my fellow man, love for nature and love for a man.
For me, each person unique and I believe that people can come into balance if they know how to deal with what they feel, think and do. Past events always have an impact on the present, the point is that you learn to deal with. My challenge is to seek to work with you to your strength, you will believe in yourself and your dreams are going to make so that you feel comfortable with yourself, your surroundings and your situation.
If you hear negative things constantly going through your youth or are you going to believe.
The youth is very important, you have to deal with injuries, you learn things, it is you, there are beliefs of the family and the family, all this has a lot of impact in the afterlife.
In my life I have gained a lot of traumatic experiences, negative events that have made me much pain, that have touched me heart and soul.
I, like many people, himself had to deal with fear, uncertainty, a feeling rejected, there should not be, can not be heard, no mind can do, I really was lived. In my childhood I grew up with fear and lap times in my bubble not to feel that my survival. I also felt unloved, and was the child of divorced parents, the experience with a strict stepfather and not heard, seen and taken seriously are sometimes confused by my mother. Due to extremely good my best I was hoping to gain love, adjust the start of extreme. I often felt alone and misunderstood. Oecause I had not learned to communicate and no space was held me to express everything within me and hid me behind a fake in my cocoon. 
The different beliefs from the family with me as a person plus my appearance had to do and I had made me unconsciously own there was an eating disorder . bulimia ; emotions eating away and fill the void (later to discard) and anorexia ; denial of myself, extreme anxiety, self-hatred and rejection by having control , little or no food and extreme sports to just stay slim too. I had a huge distorted image of myself, actually I did not picture myself at all.
In the following video I shall again myself, my story, my pain, and …
well working from my heart.
Having a relationship with many domestic violence, I came into contact with regular workers.
Subconsciously you choose a partner who resembles your parent or stepparent.
The therapy made sure I got on the past, survival strategies I developed discipline, behavior which there stemmed tools and how I could change it.
I also  worked on two documentaries, "Let the little ones  to understand other women and children who are in a violent situation. The films are used in various training institutions and professionals dealing with domestic violence.
Yet I felt that I was not ready.
(Often) unconscious beliefs and gender roles are always transmitted, copied behavior, even if you do it differently, you take it unconsciously. Often this on from generation to generation, up to seven generations back.
Because of my positive outlook, strength and my tremendous perseverance, I am aware that I have learned of the situation. Through my admit vulnerability and also to show to others, I achieved a lot, I experience it as a great power. I went from surviving to living, learning to take responsibility and go with the waves. I am open and see what life brings me to where I am immensely grateful. Nothing happens without a reason.
On my 35th I came through the alternative route to people who could help me further, for me this was the turning point in my life. I came in contact with Reiki and "The Journey by Brandon Bays' so I could heal myself and others later.
I also got in touch with a very sweet therapist Goes. She taught me to deal with my HSP (Highly Sensitive Person), I was in my power, and also learned to magnetize .
There were a number of therapists and Masters on my pad that helped me further.
It was great to always come home to myself and all ballast leave me. It felt like an onion to peel wax,I was getting closer to my beautiful heart.
My experience and qualifications
my experiences I first learned from life itself, so I know how others feel and what they go through in certain situations. My backpack I experience thus now a strength and together with my training I use it to help others. Understanding and empathy needed to know what needs another at that time and for a relationship to build to go to work somewhere together.
Through my open and honest attitude I can be very challenging so I come to the core. I feel spheres and problems and will put this name and open while others could not reach. I see very soon the truth in man, often before they experience it themselves. I am strong and powerful and know that openness and vulnerability has a positive effect.
The courses Social Work, Social Education SPW 4 + Social Work / Educational aider I followed from 2004 Hogeschool Zeeland:
Great courses where I learned a lot! My knowledge and experience I have gained both individual guidance and group work with children and adults in the ages ranging from 4 to 75 years. Often went to learning and behavioral problems, psychiatric problems and physical limitations in both the Mental Health Care, Youth Services, Social care and protected housing. I am familiar with different diseases, addictions, drugs and aggression.
I decided the training Poly Energetic Therapist follow when Vermeulen Education and Training in Amersfoort since this method suits me more. A fantastic good education! I went through deeper layers from which were not fully healed including my eating disorder, the theme of father, mother and relationships.
Through this training, I know how several disciplines such as:
– Communications; verbal / non verbal – Energy Work – Coach various techniques like Matrix coaching, further EMDR, hypnotherapy – NLP – past life regression.
By combining these disciplines is the coaching / therapy effectively and there has been good results in a short time.
Also I am an intuitive healer, Reiki master, Magnetiseur and Medium.  Coaching, Therapy and Healing is a great combination, especially with the addition of the Healing fragrances, 100% pure essential oils and sprays. This book we even better results!
The coaching and healing I also do online, via Mediumchat.nl and via telephone, Skype and Zoom. The healing I give away.
Since 2014 I Facilitator Chakra Dance ™.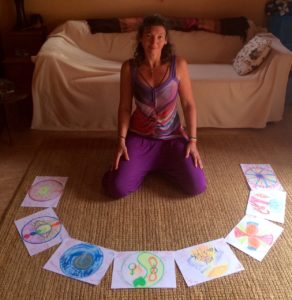 I love dancing, I know what its healing power and love to share the benefits of "Dance in Balance".
The combination of music and dance unravels any blocked energy, bring your energy and chakras and makes you more deeply with your "Authentic I 'is contacted. You are again in communication with the person you really are!
I am so grateful that I can guide people with their inner journey.
Every person is unique and can grow within.
Come and explore, search Meaning, make fun, let loose!
My mission is to help many people, especially women, to  come in to contact with their authentic selves so they can create a life that suits them!
Important that the balance between Yin (female) and Yang (male) is balanced.
Women take charge of your own life, come into your power and live and do work from your heart. Love begins at home, if that is balanced you can share.
Meanwhile, I live and work in Spain (Costa Blanca), in the summer in Schiermonnikoog (NL, and create and live my dream . I am so grateful that I can guide people individually to come into balance in a VIP day, or in a weekend, midweek or week in my beautiful place in Spain or the beautiful Schiermonnikoog and also retreats in groups and online programs with individual coaching moments everything is now covered in beautiful programs. coaching, dance, healing and therapy, all that is required at that time I am also available for individual Skype -. or telephone sessions.
Do you have any questions or are you interested in one of my programs, retreats or VIP day, please contact us for more information.
Love & Light
Alexandra L.