Massage and Healing is great for body and mind!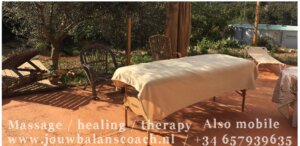 You can come here for massages and healing in the midst of the beautiful nature.
On site is also a possibility.
AROMATHERAPY BODY MASSAGE
This is a full-body massage with the scent Healing frequencies (aromatherapy) essences needed. It is a combination of a relaxing massage and Healing, Reiki / Magnetize. The chakra system is balanced and where blockages are extra attention. A wonderful time to unwind and let loose to what is no longer needed! This has an effect on Physical – Emotional – Mental and Spiritual levels .
duration 60 mins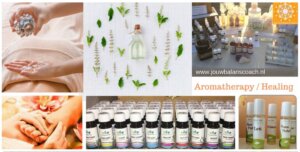 ENERGY TREATMENT
This massage includes foot bath, foot massage and healing and has an effect on:
Physical – Emotional – Mental and Energetic level.
Purpose of foot massage is balancing the chakra system through the feet of the body. By processing blocks Kundalini energy can flow freely and promote the overall well-being.
This treatment may be provided either sitting or lying down.
Duration 60 minutes
More information Energy Treatment Come into your power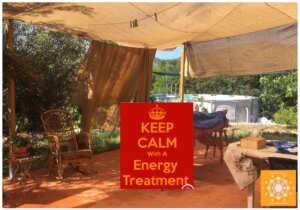 HEALING – Reiki / Magnetize
The chakras are balanced so that the energy can be healed flow and blockages free. During this healing utilizes the powerful healing scent frequencies. Because of the transcendent mediumship is the energy felt good and can get through messages.
The healing works deeply on Physical – Emotional – Mental and Spiritual levels .
This treatment can also be given away!
TIP: This is a nice addition to a coach-session, both physically and online.
More … ..
Duration 30 to 60 minutes
ABOVE IS AVAILABLE AS A GIFT AND IDEAL FOR:
– Friends – or Family Day
– Team Outing
– Workshop
TANTRA MASSAGE 
For men, women and couples.
You learn through special breathing, various exercises and by receiving this special massage (again) to make contact with your body, the balance in cardiovascular create or restore sexual power and releasing blocked energy.
Due to this respect and loving massage flows your body with energy and tingling from head to toe. It feels like an orgasmic spiritual experience where everything you and you uitduidt and one.
You will learn to receive during the massage.
Acceptance, relaxation, tranquility and space give you the freedom to expand your consciousness and enjoy yourself. 
Your body, mind, heart and soul merge.
Reasons to practice Tantra:
As APK for yourself or your relationship
personal development
Discover energetic and sexual and widen

 

path to grow spiritually

 

freedom in yourself and your life experience

 

unprocessed things yourself healed

 

conscious and more intense life / enjoy

 

Tantra is healthy for your body and mind.

 
A session usually lasts between 1.5 and 2 hours.
If you have more questions than I like to hear!
Contact us for an informal conversation.  or call me at no. +34,657,939,635.
More information on the website euforica …. 
Love & Light
Alexandra Langeveld