Massage and Healing is great for body and mind!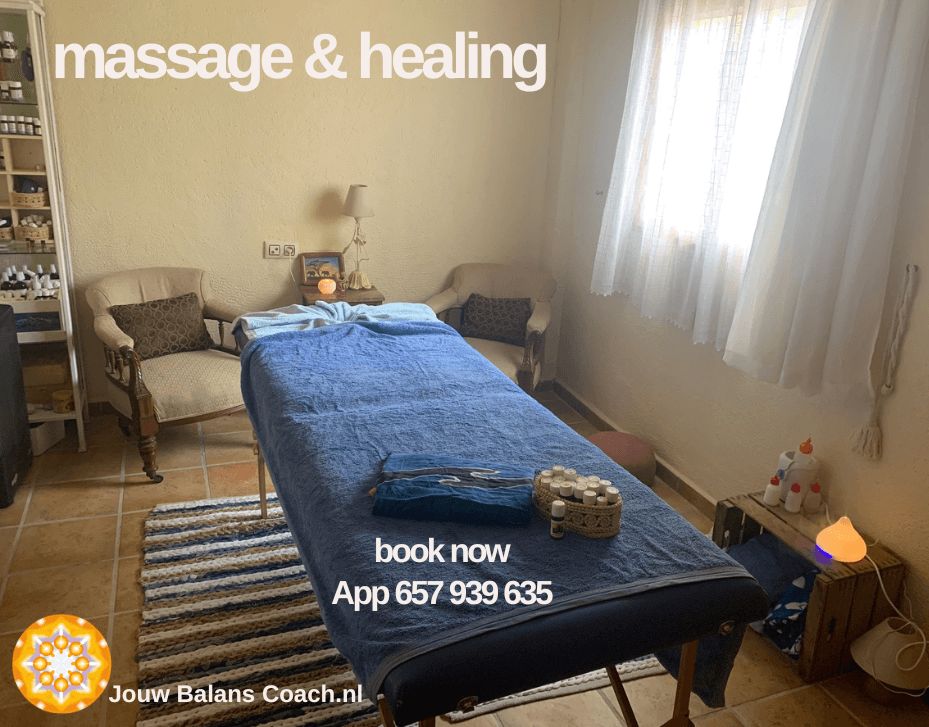 I offer various massages to get in balance with your body and mind. These massages also give relief from stress and reduction of pain due to my gifts. A good mind connection brings complete relaxation and dispels physical complaints.
Every massage, whichever you choose, will be performed carefully and in complete peace and good atmosphere. The massage lasts one hour.
After the massage there is time to "relax" and drink a glass of water to drain your waste products. A massage will give you a relaxed feeling that can last for days.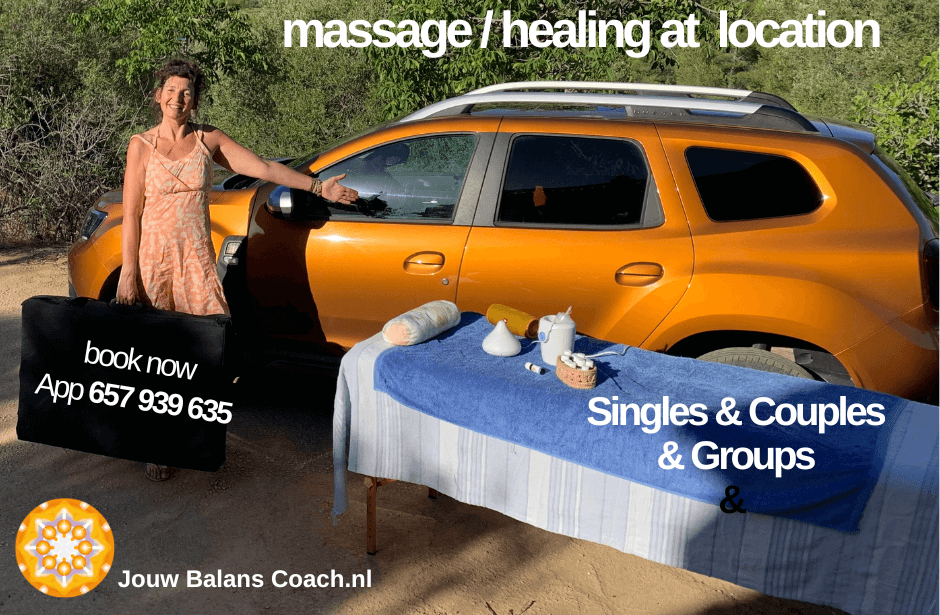 Various massages and healing, in the midst of beautiful nature, on location is also possible. The massages and healing on location is also possible! Ideal for: "Friends or Family Day" or "Team Outing".
It is possible to combine massages with coaching or healing. The powerful essential oil is used for an even deeper effect on an emotional, physical, mental and spiritual level. You can also come here for Reiki, Magnetization and Mahatma  (for pain, injuries, edema and stress) see the page about Healing…
Aromatherapy body massage
This is a Full-Body massage with the Healing fragrance frequencies (aromatherapy) essences that are needed. It is a combination of a relaxation massage and a Healing. The chakra system is brought into balance and extra attention is paid to where blockages are located. A wonderful moment to relax and let go of what is no longer necessary! This also works on a Physical – Emotional – Mental and Spiritual level.
"A session lasts 60 minutes"


Therapeutic Massage Massage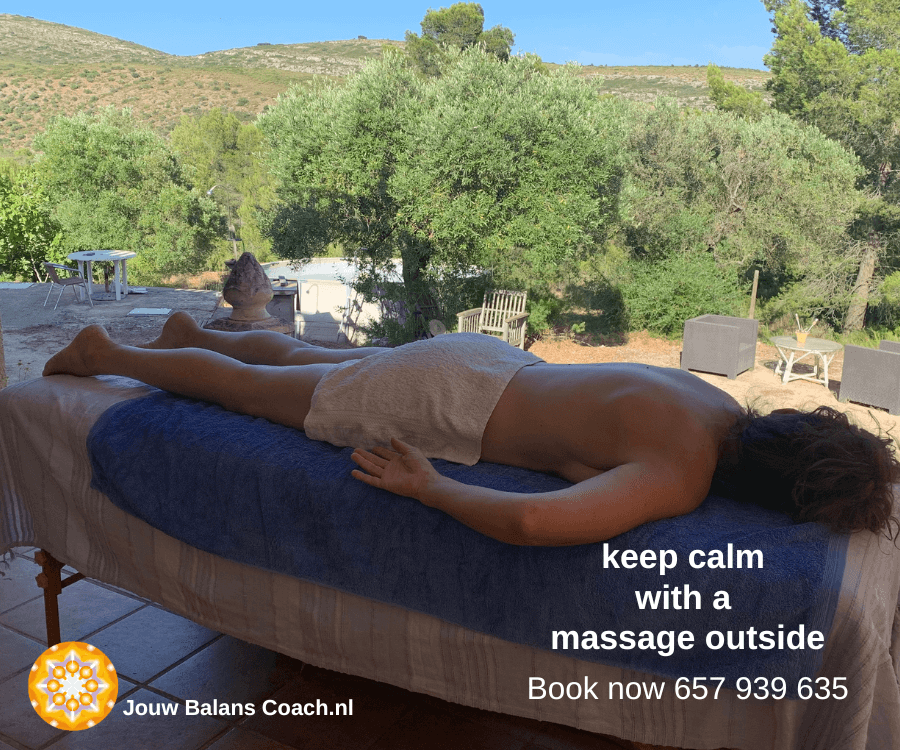 Relaxes the muscles and makes them supple.
Restoring the connection of body and mind and giving it new energy
Getting the body functions back in balance
Improve nerve function and blood supply throughout the body.
activates the immune system and thus increases resistance to diseases.
It activates and supports the lymph flow, carries toxins out of the body.


After the massage, 5 to 10 minutes of complete rest plus drink a few glasses of water.
Therapeutic massage is aimed at the whole person, not just the individual physical complaints. It increases the self-healing capacity of the body and gives a feeling of euphoria and new energy.
Trance medium massage (also with the energy treatment)
During a transmedium massage I connect my strong energy after your approval. I, as it were, connect my energy with the person who is lying on the table or sitting on the chair.
This allows me to make contact with the aura and the chakras and I can feel pain and trace blockages. From your energy I also receive observations that can provide you and me with a lot of clarity, for example if there are psychosomatic complaints. I can tell you where they may have originated from. What may be healed ALWAYS comes through spiritually when the time is right. The more serious the real problem, the more intense the pain, I can work with that. This doe is both as a medium, masseuse and therapist.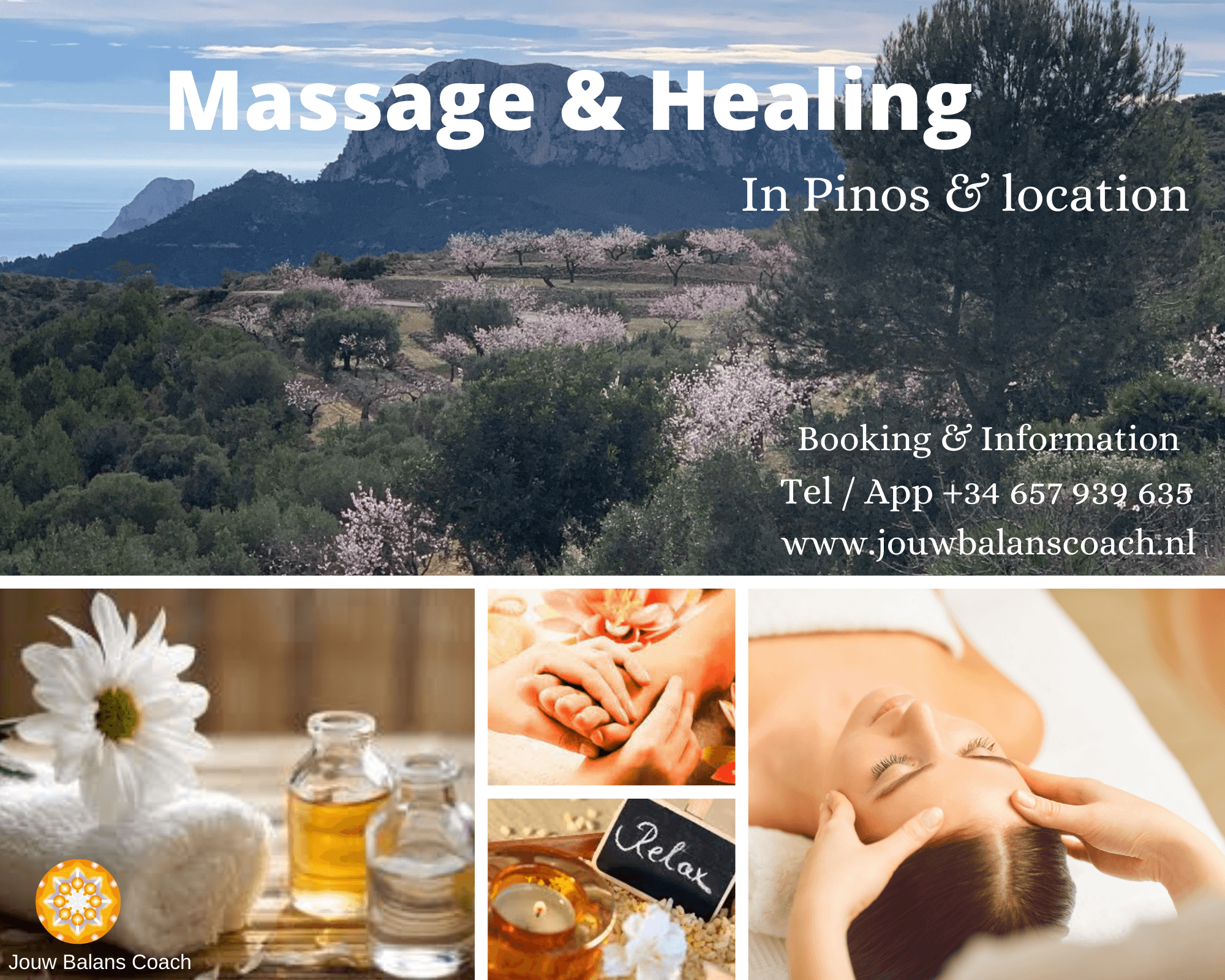 ENERGY TREATMENT:
FOOT MASSAGE AND HEALING
This massage includes foot bath, foot massage and Healing and works on:
Physical – Emotional – Mental and Energetic level.
The goal of foot massage is to balance the chakra system through the foot to the body. By processing blockages, the Kundalini energy can flow freely again and that promotes the overall feeling of well-being.
A wonderful foot bath

containing a scoop of clay and/or hymalaya salt and an essence of your choice/needed addition. This removes tensions and any energy blockages. With dry feet, some base oil can be added to the bath.

Foot massage. The feet are massaged with a wonderful massage oil with added a number of drops of an essence of your choice/needed, or a separate essence for each chakra.
Body. The treatment is given sitting. The energy treatment is especially valuable, that due to the changed consciousness growth of man at this time, different needs exist with regard to healing. This treatment provides relaxation, brings harmony to the body and physical complaints are treated extra. An essence can also be chosen here. You can then use the essence at home for a good result!
This treatment can be received sitting or lying down." A session lasts 60 minutes"

Wat een Energy treatment, a treat

What a joy that is, such an energetic foot massage with oil… the energy starts to flow and you immediately feel how it becomes calm inside… talking together, a listening ear, an insight…. wonderfully scented oil. … Simply blissful, pure indulgence, you feel reborn… starting with the feet…. it flows through!!! Thank you I really enjoyed it! Christine G.
HEALING – Reiki / Magnetize
The chakras are brought into balance so that the energy can flow freely again and blockages can be healed. During this healing, the powerful healing scent frequencies are used. Because of the transcendent mediumship, the energy is well felt and messages can get through.
The healing works deeply on a Physical – Emotional – Mental and Spiritual level.

This treatment can also be given remotely!
Foot massage & Coaching gave discharge and rest

Alexandra, the foot treatment was wonderful again, it gives relaxation and is nice, the feet are much softer and I also feel a lot of heat during the Reiki treatment. A week later I was still benefiting from it. Coaching is also nice, I am more introverted, I became aware of a few things and I felt relaxed. When I came to you my head was full and after leaving there was a huge release and peace! I feel very at ease with you, you are a listening ear and you radiate warmth. All in all very good, thank you. Greetings Netty
TIP: nice addition / combination with a Coach session, both physically and online. More information…..
Duration 60 minutes (30 minutes is also possible for routes)

Read more reviews here

MASSAGE AND HEALING IS AVAILABLE AS GIFTS AND IDEAL FOR: 



"Friends or Family Day" and "Team Outing"
TANTRA MASSAGE 
For men, women and couples.
You learn through special breathing, various exercises and by receiving this special massage (again) to make contact with your body, the balance in cardiovascular create or restore sexual power and releasing blocked energy.
Due to this respect and loving massage flows your body with energy and tingling from head to toe. It feels like an orgasmic spiritual experience where everything you and you uitduidt and one.
You will learn to receive during the massage.
Acceptance, relaxation, tranquility and space give freedom to expand your consciousness and enjoy yourself. 
Your body, mind, heart and soul merge.
Reasons to practice Tantra:
As APK for yourself or your relationship
personal development
Discover energetic and sexual and widen

 

path to grow spiritually

 

freedom in yourself and your life experience

 

unprocessed things yourself healed

 

conscious and more intense life / enjoy

 

Tantra is healthy for your body and mind.

 
"A session lasts 2 hours"
An "out-of-this-world" experience of sensual touch

"A tantra massage with Alexandra is an out-of-the-ordinary experience of sensual touch, human contact, music and fragrance that brought me into a state of bliss. I felt calm and stress-free and at peace with the world. " Thank you Alexandra!
John C.

If you have more questions than I like to hear!
Contact us for an informal conversation.  or call me at no. +34,657,939,635.
More information on the website euforica …. 
Information about  method ..  Informatie en rates
Love & Light
Alexandra Langeveld