A great gift to yourself, because you're worth it! I enthusiastically participate in this new program I along with Johanna Pien organize. You make it a beautiful inner journey and the necessary transformations.
Senses -Dance- U with HORSES-
 women healing – women wisdom
Inner leadership – connection – wild and wise – fragile and soft power – feeling – knowing – intent – focus – creativity – intuition – love – creation and unity.
EQUI-GESTALT – ART – VOICE DRAMA – CHAKRA DANCE – ACCES BARS –
  COACHING – BODY WORK – Aromatherapy – NATURAL RITUALS
In a series of nine Saturdays research Do you program life themes as women and get more awareness to what is now asking for your attention in a woman's life and possibly renewal. Through intuitive methods you come to your own answers and make you more and more connection with your natural essence and your wisdom.
You develop your senses and intuition and how you can put into your everyday life.
Your life is after your dance, a dance between your subconscious and conscious knowledge, a possibility which suits you with heart and soul to manifest and experience.
A workshop you still let alone, in motion, and you probably will get where words fail …Sensitive and raw grief as a woman's life .
JOHANNA PIEN SAVONIJE

Certified IV (4 years) and Gestalt Art Therapist (5 years) after a long media career in creative and managerial positions.
"I now work in a holistic general practice, specialized in women healing , HSP, women and their life processes. Through years of working around burn-out, depression and physical illnesses I got more and more awareness and knowledge on healing and how valuable it can be for a woman to free her natural yin nature, inner feelings and her intuition again. My horses have also learned me in this road (NOW module Carol Roush Epona (Linda Kohanov) trainer US Clinics Noora Ehnqvist) and in recent years they are often the women next to me in healing work.
Also during this process " 'SenSeS' dance U with horses."
ALEXANDRA LANGEVELD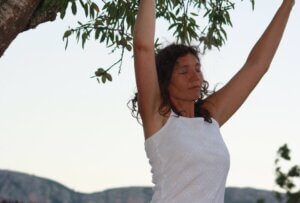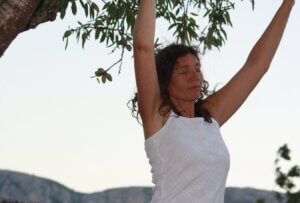 From Social work, SPW, social work and as Poly Energetic therapist (education Vermeulen) I followed the training 'Facilitator Chakra Dance' in 2014.
"Dancing was my passion from an early age and my form of self-expression.
Chakra Dance takes place on specially composed music that resonates with every living your authentic sources.
This program is about feeling and experiencing and enjoying learning more contact with yourself and the world around you.
During this process I will use several methods (intuitive signs, bodywork, smells, rituals etc.) all this to get more in touch with your natural character and life path. "
More information about Chakra Dance
LOCATION
The location of this project is a beautiful place in nature 7 km from Javea overlooking the Montgo. The program consists of nine workshops and is always on Saturdays from 10h to 17h.
You commit yourself for the whole series.
Date: Sat 4/11, 2/12 2017 , 13/1, 3/2, 3/3, 7/4, 5/5, 9/6 and 30/6 2018
Registration for this program via:  
johanna.pien.savonije@gmail.com
or via the CONTACT FORM 
or through the event on Facebook 
or via MEET-UP
Investment:
75 euro subscription
90 euros per course (including lunch)
Photo: Marte Rouge and
Marion Oprel