Below are programs, VIP days and retreats
Would you like to experience a transformation in a short time? Do you want to break your vicious circle and get rid of your pain? Especially for you I have a number of programs where we go into depth and tackle the problems from the roots. In my video I tell more about it.
You have long-term results! Click on the pictures for more information!
VIP intensive "In Balance with your authentic Self"
During this VIP Intensive day(s) we work on problems what block you.
More information ….
Programs aimed at PHYSICAL COMPLAINTS
The intestines, that's where our health begins !
If you want more information, please contact us !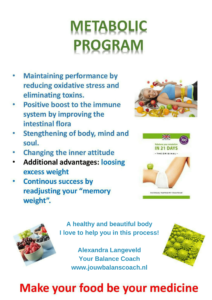 A healthy and beautiful body, more energy, no jo-jo effect!
During this program you will lose weight in a responsible way, your metabolism will be balanced and you will gain insight into your eating patterns and the underlying problems.
This results are for long term …
DANCE retreat The Awakening, Journeying en Freedom
See the agenda ..   and sign up for more information …
If you have any questions or would like more information, please contact me.
Love & Light
Alexandra