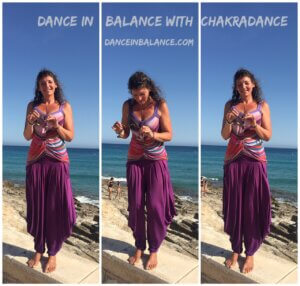 I am very excited that ik can introduce Chakradance in Calpe.
I am grateful to be a participant of city2sand festival 2017. There are 15 teachers of different kind of yoga.
This festival start 1th of June and finish 5th of June.
This is not only yoga, there is also a lot of music with famous DJ's.
Dance in balance with Chakradance is the sister of yoga, they call it also "Spiritual Zumba".

If you want to look after your body and soul, but also enjoy relaxing in the sun or on the beach and truly unwinding, then City2Sand 2017 is the perfect yoga holiday experience for you. DAY/CLASS PASSES are available  book here.
City2Sand 2017 is being held at the luxurious, World Travel Award winning, Conde Nast hotel – AR Diamante Beach Spa, situated just a two minute stroll from the stunning, sandy beach of Calpe, Costa Blanca. Calpe is a top safe destination here in Spain and we (almost!) guarantee warm, sunny climes when we welcome you in June.
There will be featuring the latest hottest trends of "Aerial Fly Yoga" with flips and tricks workshops. Also the latest "Beats Yoga" from Australia and USA craze "House Yoga" with Finnish yoga teacher flying in and featuring live with one of Finland's top DJs. All yoga classes are perfectly complimented in a relaxed atmosphere, sunshine and the beach nearby.
"Chakra Rhythm with Alexandra"
The workshop I facilitate is the first of the cyclus of "Awakening".
You can experience the chakra system, it bring you to your authentic self, give more energy, you have the feeling of Coming Home and it rebalance your chakra's. After the workshop you feel relaxed, that is what you want isn't it.
The workshop is including meditation, dance and mandala art. We dance with the eyes closed because it is an inner journey and everybody dance his own dance.
I looking forward to meet you at this yoga-music festival.
A yoga festival with a twist, we can´t wait to share the experience with you.
BUY TICKETS
Chakradance now at Hotel Diamante Beach in Calpe