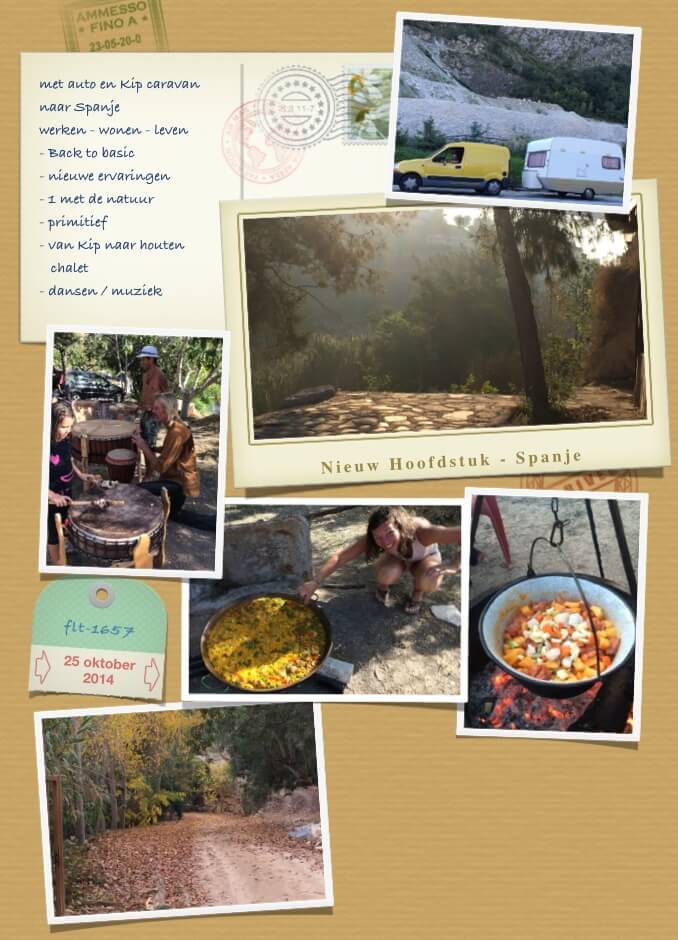 At last the time has come !!  
Vivo y trabajo en España
Over three weeks in Spain. Courage, strength, positive thinking and confidence , this package is much more established. A plan early May, everything went quickly, to join Centro Alba and set up my practice in Spain, it went differently than planned.
Much has happened in recent months. I've worked hard around the room.
Sometimes was accompanied by a row 
because I had to make a choice about stuff, what I take and what I do with the rest? My whole life passed before my eyes, photos, baby items from their son now almost 21 years, things got friends and brought from various countries. I've sold a lot, some away to friends and family and finally I too much stuff donated to a disability organization.
The farewell party was double, good to have friends and family around me, people I had not seen long were suddenly.Lovely to reminisce too, introducing my friend who now went over from Spain, and to talk about my new chapter , a bit further life where the pressure is less, the climate better for me and where I work I now do with can continue much love ! In addition to live with few resources, surrounded by nature and self.
With my car and small chicken caravan full of stuff started a new chapter to Spain,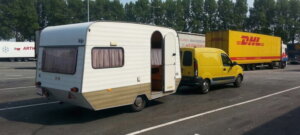 Gandia on the Costa Blanca. A good plan, working as poly energetic life coach and facilitator Chakra Dance. My friend would happily drive for driving with a caravan I was not used, especially in the Pyrenees. During the trip we visited friends, family and made it a holiday week of.
Instead of the Calpe Gandia, was on arrival there was a lot of rain which lasted a week. The pyramid where I lived in was Plan B so forgive fell through. Disappointed, I tried to make the best of it.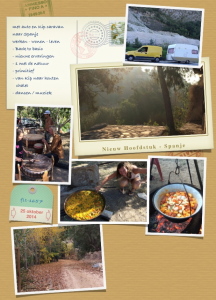 It was not easy in a small caravan without electricity and without luxury living . My belongings were in the car here and still packed in bags and boxes. There was no Wifi, few amenities, shops around 5 km away, daytime heat (my caravan was in full sun) and a plan that had suddenly changed. I was thrown back on myself, I speak the language , had suddenly survive and have regularly of tears cried to friends and stuff I missed.
Manu taught me everything about nature, explained to me the basic stuff and all I had to quickly do a lot yourself. Ibumped into things and myself, the first safety, my foundation was gone, and things, matter.
Back to Netherlands was not an option,
My house I had canceled and returned to the system I did not . Every time I saw something that reminded me of my past if I was missing things I was attached. It only a process of letting go and being open to the new . I myself gave three weeks time to fully let go and to come loose from materialism!
The relationship with my boyfriend worsened by our differences  ever created more distance , he withdrew more and more in his own home so I was left to my fate. At first I shot my victim,  I complained about many things and I soon came to my instinct, 'I did do was arrange themselves.
I myself would take care of security, all the amenities I needed, work and my growth , eventually nothing happens without a reason.
I decided to accept the situation and put the focus on confidence in myself. I drew a lot on and went to work on my goal, to organize Chakra Dance and set up my practice, without this relationship will also succeed!
With more courage, power and confidence I continued and joined the Dutch club, went daily Spanish learning , networking with some cafes and restaurants.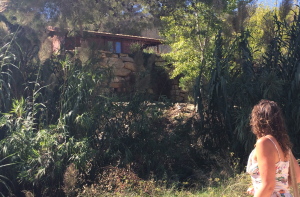 Because a lot of help from my friend who lives in Spain for 7 years, I met with many people in contact who could help me beyond where I could use and with whom I could join forces to work together.
Nice how the universe works, I have given much and given away to one side, and here I get so much back I am very happy and thankful for!
I was offered a wooden chalet with 1.8 hectares of land
6 months I can live here for free. But there was still a thing to happen. It's bigger than my home, may all my belongings, but had the generator to be made for electricity and water and a bottle purchased and attached to cook. With friends I could find to do was to use a bath, and electricity and WIFI for some to settle things. Around working there was also a nice solution, coaching sessions via Skype and Reiki distance v ear Dutch clients. Grateful, happy and very proud I was featured on everything accomplished ! In good spirits I continued on my way, how bumpy as it may be!
Back to the basic
As in "Dance your balance 'with Chakra Dance, starts at the base chakra. The life source of growth and security, it is the anchor, foundation, roots, survival instincts, a roof over their head, food and drink.
When setbacks and disappointments, I began to worry and was so concerned with security and safety so I shot back into my work and survival.
I wanted life like Manu does, ecological and self-sufficient, without pressure and with minimal resources . For me, everything was new and sometimes very difficult. The distance between Manu and me grew , the mirror that he loved me sometimes hurt,he called me hamster, workaholic, miss impatience , I knew where it came from and was tired of it. There were many established but it was at the expense of myself and my relationship. Important so to go take it easy and step by step.
I myself am quite encountered. Especially patience, get used to ' manana ' because here everything is very different, everything is done at a leisurely pace in the Netherlands have the right, here comes tomorrow. Going with the flow, you get there by itself.
A good lesson for me as a doer. The 'tolerate' the other way of life, change and the differences are very important!
I am very grateful and am confident that this is going well from suits. Every once in a setback, I went back to myself, I went dancing , the problem tackled and kept thinking about my plan / dream. Confidently I went by, I came to my instincts right, it was hot, I was looking for a place in the shade, without power nonetheless self-sufficient by getting bottled water to freeze on my cooler, with laptop and phone coffee at a shop Calpe with WIFI, so I could do some things, people look to experience to get the boot in Spain tips and tools.
When I look back on the past few weeks I proud of what I have achieved so far!
Guts and change our course was my first step!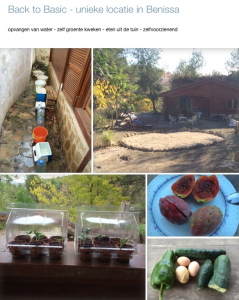 When setbacks continue anyway , back to basics, acceptance of primitive life , letting go of the matter and the crowds, living in the campo, one with nature, allowing (primitive) instincts and come home to myself and Spain!
"The losing contact with our body are the same as spiritually homeless.
Without an anchor, we drift aimlessly and battered by life. " Judith Anodea