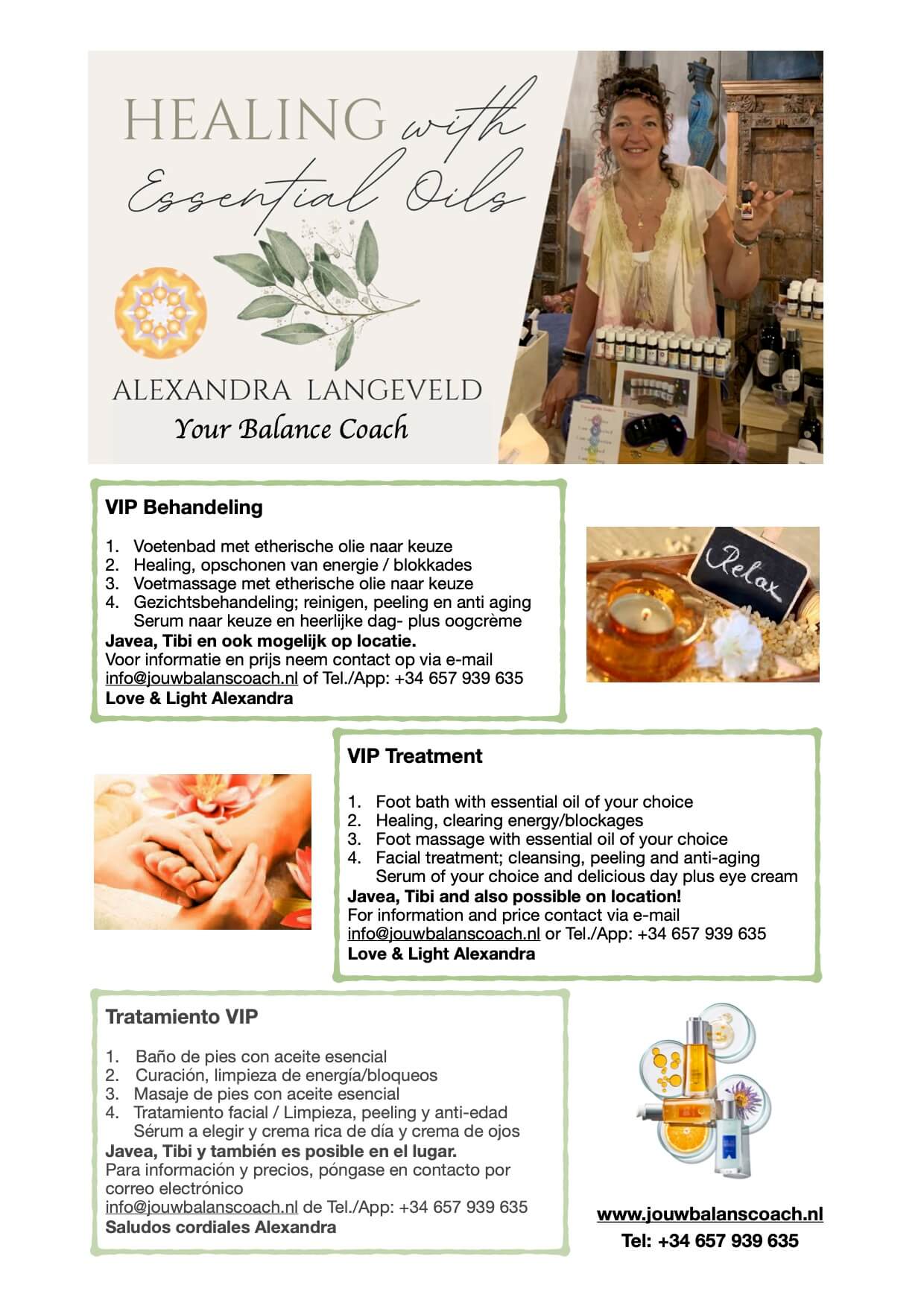 A move, ME time and the birth of the "VIP treatment"
With the hustle and bustle of 2 moves in 6 months, I chose to turn inward for a while to feel how I want to proceed with work. I have been doing a lot online for the past few years, as well as receiving clients at my practice in Lliber, near Pinos.
I was also at monthly hippy markets offering foot massage and healing. This combined with selling my essential oils and other products. Many people loved this, and felt so good afterwards that they wanted to be in that relaxation mode for longer. The different treatments I offer combine very well together, which is how the VIP treatment was born,
I have noticed a huge change in many people and also in myself over the past year.
Because of the lockdown, the curfew, the fearful and uncertain period for many people, 'being home' is very important for many. Especially now here in Spain, the hot months, not actually wanting to leave but at home, in the air conditioning or cooling off by the pool.
For myself, I don't really mind driving far for a ME-time moment.
For instance, I myself regularly go to Javea for a VIP Hammam treatment, lovely and always different.
I notice that many people don't want to drive that far anymore, and prefer to do a lot from home, they also order more online.
That gave me the idea of working more on location. Now that I live and work in Tibi, as well as being able to rent a space in Soul Sanctuary Javea, which will be closed in August due to holidays, I am offering my new treatment and it will be in my practice or on location. Your Balance Coach goes mobile.
❤️ VIP treatment ❤️
Are you ready for a relaxing moment?
Forgetting all your worries, a ME-time moment full of pampering.
Then you've come to the right place or… at your place !
Trusted and relaxed, tips still work !

For me, the treatment with Alexandra was very relaxing and familiar. I felt very comfortable, everything went at a pace that suited me so I kept feeling good. I did receive a number of tips that I still experience as positive and still apply daily. I am very much looking forward to doing another treatment to find myself even further and that will certainly succeed with her help. I can definitely recommend Alexandra to everyone! Conny
This is what you receive with the VIP treatment:
We start with a lovely foot bath with essential oil of your choice.
Meanwhile, you get a healing, the energy is cleaned up, any blockages are addressed.
A lovely foot massage with essential oil of your choice.
I work on the chakra system, so this is also a combination of relaxing and cleansing.
Whatever arises gets extra attention.
Finally, a wonderful facial treatment.
The face is deeply cleansed, a peeling, and anti-aging.
You get a serum of your choice and a Gold or Diamond cream plus eye cream.
You will see immediate results, clearer complexion and fewer lines.
Sessions give relaxation, satisfaction and confidence

Alexandra, your sessions are great, I enjoyed them, you gave me relaxation and satisfaction and am super sorry that you are now so far away. You really got me through the whole difficult period! Also the foot massage was wonderful! You are also someone who can drag someone through it well. Your pep talk and your direct honesty gave me insight and confidence in myself again. Thank you very much, I am already looking forward to another energy treatment including foot massage! Greetings, Laila
You are welcome in Tibi, from September also in Javea and it is now also possible on location !
If you want more information, please feel free to contact me.
This treatment is also ideal as a girlfriend or family day !
It is also possible with other services I offer.
Would you like a demonstration party of the essential oils and other products at your home?
This is also possible, you will receive a gift and something extra as an organiser.
Please contact me without any obligation.
Foot massage & Coaching gave relief and peace of mind

Alexandra, the foot treatment was wonderful again, it gives relaxation and is nice, the feet are much softer and I also feel a lot of warmth during the Reiki treatment. A week after, I still benefited from it. Coaching is also nice, am more inward, became aware of a few things and felt relaxed. When I came to you my head was full and after leaving there was a huge release and peace! I feel very comfortable with you, you are a listening ear and you radiate warmth. All in all very good, thank you. Greetings Netty
I wish you a lovely day.
Love & Light
Alexandra