Een prachtig cadeau aan jezelf, omdat je het waard bent!Vol enthousiasme deel ik hierbij het nieuwe programma wat ik samen met Johanna Pien organiseer. Je maakt een prachtige innerlijke reis en de nodige transformaties mee.
SenSeS  -DANCE U with HORSES-
 women healing – women wisdom
Inner leadership – connectie – wild en wise – kwetsbaar en zachte kracht – voelen – weten – intentie – focus – scheppingskracht – intuïtie – liefde – creatie en eenheid.
EQUI-GESTALT – ART – VOICE DRAMA – CHAKRA DANCE – ACCES BARS –
  COACHING –  BODY WORK – AROMATHERAPIE – NATUURRITUELEN
In een reeks van 9 zaterdagen onderzoek jij in dit programma je levensthema's als vrouw en krijg je  meer bewustzijn op wat er nu in jouw vrouwenleven om aandacht vraagt en eventueel aan vernieuwing toe is. Via intuïtieve werkvormen kom je bij je eigen antwoorden en maak je meer en meer verbinding met jouw natuurlijke essentie en jouw wijsheid.
Je ontwikkelt je zintuigen en intuïtie en hoe je deze in kan zetten in jouw dagelijkse leven.
Jouw leven is immers jouw dans, een dans tussen jouw onbewuste en bewuste weten, een mogelijkheid om wat jou past met hart en ziel te manifesteren en te beleven.
Een workshop die je stil laat staan,  in beweging zet en je wellicht zal raken daar waar woorden tekort schieten…SenSitief en rouwrauw, zoals een vrouwenleven.
JOHANNA PIEN SAVONIJE

Gecertificeerd I.V. (4 jaar)  en Gestalt-Art-therapeute (5 jaar) na een lange  medialoopbaan in creatieve en leidinggevende functies.
"Ik werk nu in een holistische huisartsenpraktijk, gespecialiseerd in women healing, HSP,  vrouwen en hun levensprocessen. Door jarenlang te werken rond Burn Out, depressies en lichamelijke ziekten kreeg ik meer en meer bewustzijn en kennis op hoe helend en waardevol het kan zijn voor een vrouw om haar yin natuurlijke aard, innerlijke gevoelswereld en haar intuïtie weer vrij te krijgen. Mijn paarden hebben mij hierin ook veel geleerd onderweg (NOW module,  Carol Roush Epona (Linda Kohanov)  trainer VS, Clinics Noora Ehnqvist) en de laatste jaren staan zij regelmatig naast mij in het women healingswerk.
Zo ook tijdens dit traject 'SenSeS' dance U with horses."
ALEXANDRA LANGEVELD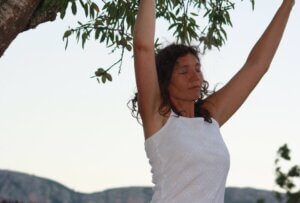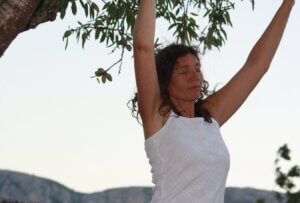 Vanuit Social work, SPW, maatschappelijk werk en als Poly Energetisch therapeute (opleiding Vermeulen) heb ik in 2014 de opleiding 'Facilitator Chakradance' gevolgd.
"Dansen was vanaf jonge leeftijd mijn passie en mijn vorm van zelfexpressie.
Chakradance gebeurt op speciaal gecomponeerde muziek die telkens resoneert met jouw authentieke levensbronnen.
In dit programma gaat het om voelen en ervaren en om meer te leren genieten van het contact met jezelf en de wereld om je heen.
Tijdens dit traject zal ook ik meerdere werkvormen inzetten (intuïtief tekenen, bodywork, geuren, rituelen enz) dit alles om meer in contact te komen met jouw natuurlijke aard en levenspad."
Meer informatie over Chakradance
LOCATIE
De locatie van dit traject is op een prachtige plek in de natuur 7 km van Javea met uitzicht op de Montgo. Het programma bestaat uit 9 workshops en is telkens op zaterdagen van 10u tot 17u.
Je commit je voor de hele reeks.
Data: zat 4/11, 2/12 2017,  13/1, 3/2, 3/3, 7/4, 5/5, 9/6 en 30/6 2018
Inschrijving voor dit programma kan via:  
johanna.pien.savonije@gmail.com
of via het CONTACTFORMULIER 
Of via het evenement op Facebook 
Of via MEET-UP
investering:
75 euro bij inschrijving
90 euro per cursusdag (inclusief lunch)
Foto: Marte Rouge en
Marion Oprel