HEALING – Reiki / Magnetize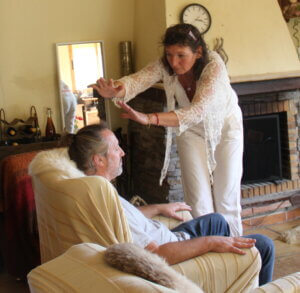 The chakras are in balance brought by laying on of hands and lowering the energy so that the energy can be healed flow and blockages free. During this healing utilizes the powerful healing scent frequencies. Because of the transcendent mediumship is the energy felt good, and taken off protective and may get through messages. Also additional Faden gemstones use, incorporating the negative energy and stuck emotions.
The healing works deeply on:
Physical – Emotional – Mental and Spiritual levels .
This treatment can also be done remotely!

TIP: This is a nice addition to a coach or therapy session, both physically and online.
Duration 30 to 60 minutes       more information about the sessions … ..
Online Healing Session     
Everything is energy ; all that is perceptible has its own frequency / vibration / resonance or shape.
This is done through your senses   like hearing, feeling, seeing, tasting and smelling. Think of human and animal nature, our connections, touches, our diet, the elements of water, fire, metal, wood, air and all the differences here. Also, your thoughts, feelings, know. … everything has its own unique vibration. Everything is linked! 
A disruption  in your aura (energy) and your chakras can cause problems on the physical, emotional, mental and spiritual level.
This can be done by a relationship-breakage, loss of a loved one, or a traumatic event. It can if you have an event not handled properly.
As a healer , I can feel your aura and your chakras and send the energy in these fields. I vote myself to your energy and will remove negative energy, loosening blockages and add positive energy. I can also feel as transcendent medium you need and get groceries. Read more about mediumship …
A healing has many positive effects . Often you feel quickly calmer and more relaxed. You can literally feel enlightened, more balanced, experienced an inner peace and more come into your strength and your wisdom. There is also a better understanding of yourself, your behavior and old wounds can come out now. It works by physical, emotional, mental and spiritual level.
My method:
I always start with the cleanup and cleaning of the aura. It is important that you sit quietly and breathe deeply goes to the stomach. You can not see what I do, but you can feel it. I'll take you through many layers and I am working with the chakra system. The base healing will be about 20 – take 30 minutes, sometimes slightly shorter, sometimes longer. During the healing I can ask things I do important things with which I feel or battle.
After the healing I can provide additional information and answer any questions. Also can still be chosen for certain documents further work by coaching or what it takes to gain additional insights and blockades to clean.
Sometimes it is important for the healing to repeat after a few days because there may be many loose and we have more depth to go. There are a lot of trauma and emotions stored in our body that are processed by a better healing.
The benefit of healing online is that you can stay at home or at your location so you save time and you pay only the time I need for you to healing. Often you relax after a healing that's nice that you can stay in the flow and do not leave the house.
Sessions take place through:   
IM

messenger

phone or Whatsapp

skype or zoom
Do you have any questions or you want to experience an online healing? Please contact on … 
You're welcome …
ABOVE IS ALSO AVAILABLE AS A GIFT AND IDEAL FOR:
– Vriendinnen- or Family Day
– Team Outing
– Workshop