Are you ready for a change?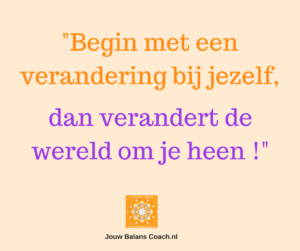 Many people suffer with pain, sadness, anger and fear.
This can have a major impact on your life, on Physical, Emotional, Mental and Spiritual levels. Choose now for a change and notice the world around you is changing!

These pains and emotions can manifest themselves in many ways.
Diseases of tension and stress to diabetes and cancer.
Many verslavinge n as alcohol, drugs, food, gambling, buying, sports, work etc.
Many fears, phobias and uncertainty thus no longer do things you otherwise fun gifts and even insulation and rigidity.
Burnout and overwork , giving all of yourself, it takes its toll.
Often done unconsciously and often denotes a vicious circle.
Note that you often going through the same situations?
You see patterns that recur in your family?
Pull your specific partners?
Do you have trouble letting go?
Find your getting everything out yourself?
Do you find it difficult to make a change?
Come in balance with your authentic self.
Also, I have experience with the above.
My life experience and training make me an expert.
An expert helping you would like to do the same thing I did.
Choose for myself!
Breaking free of tires I had chained myself.
The redirecting my beliefs that I had made my own.
My life creating   manifest my dreams and live life.
Do you like, "YES" is to me too …
Are you finally ready to take steps …
Choose for yourself .. you finally
go you finally manifest your life and dream life ..
please contact so we can see what route we can start.
Information about my process CLICK HERE
Information about the program CLICK HERE
I look forward to working with you to your new stage in your life!
Have you received my gift?
QUESTION HERE FREE MEDITATION ON …
enjoy your 'Me time' moment!
Love & Light
Alexandra
ps do you know that it is possible for a FREE CALL to ask?
Testimonial Marjolein H.
A great day with many insights; that was my VIP Intensive day with Alexandra.
How exciting and difficult I 's found the morning, how easy Alexandra me all "loose" was by asking questions and doing exercises. Soon the tears flowed, tears of stress but mainly recognition and relief in what Alexandra said. Alexandra relief because I understood exactly and precisely could appoint my 'pain' while I myself sometimes could not agree. And more importantly, which remove obstacles / they allow less heavily by doing exercises and give me insight.
I have the whole day so many tips, tricks and exercises given that I do not go all enumerate. Eventually everyone must take his own journey, therefore I do not mention the tips and tricks. I was traveling with my trip, but was quiet and I feel absolutely Alexandra has also helped me again herein. The day gave me great insights and good handles to be able to continue.
(VIP Intensive Schiermonnikoog)
Testimonial of Caroline S.
Surprisingly, overwhelming, waking up and liberating.
After years of self-neglect, I am very hard declined in May this year. Since then I try to turn the tide for myself. Given the low energy levels it still was quite a challenge. This week I have the connection with myself regained through dance and other sessions. In particular, the session of "the body as a company" has worked as a real eye-opener. I actually got contacted by the dance and the session with my feeling and that is very special and gives a lot of joy. I really felt what "do" it does: it makes the connection. The step is to put balance between body and mind, the Office has turned to a life in balance. Also a real eye-opener ward mandalas. When I had to put in order to look and feel what came up, I began skeptically. My ratio saw no point in. Yet broken through that resistor, and to let me in work. The result was surprising: I felt a flow and connect with my body. The Reiki felt like a warm flow of energy in the places I was touched and found it relaxing.
In short, when I came, there was no connection with my chakras. I did not even have exactly what they value) and now there is that connection and appreciation.
Alexandra, many thanks!
(VIP Intensive including Chakra Dance 'Awakening' in Spain)